Pest Control in Enoch Starting At $39.77/Month
Pest Control in Enoch
After a long day at work, nothing feels better than going home to kick off your shoes and relax in peace. The last thing you want is to discover a pest problem that leaves you feeling paranoid about when or where the next insect or rodent may pop up. Instead of struggling with DIY treatments that can leave an infestation more time to develop, give your local exterminator a call as soon as you notice activity! Western Pest Control can help you get rid of pests and prevent them from returning, so you can feel comfortable in your home once again. Our pest control in Enoch eliminates several bugs, including:
Ants
Roaches
Spiders
Crickets
Silverfish
Earwigs
Beetles
Stinging Insects
Scorpions
And more!
Effective Pest Control Services
For lasting relief from pests like ants, cockroaches, beetles, scorpions, and more, you need quality treatments applied with care by a professional. Since 2001, we've been providing our neighbors with pest control in Cedar City's surrounding areas that combine effective treatments with friendly customer care. As a locally-owned and operated company, we value forming long-lasting relationships with our customers while also producing results.
Image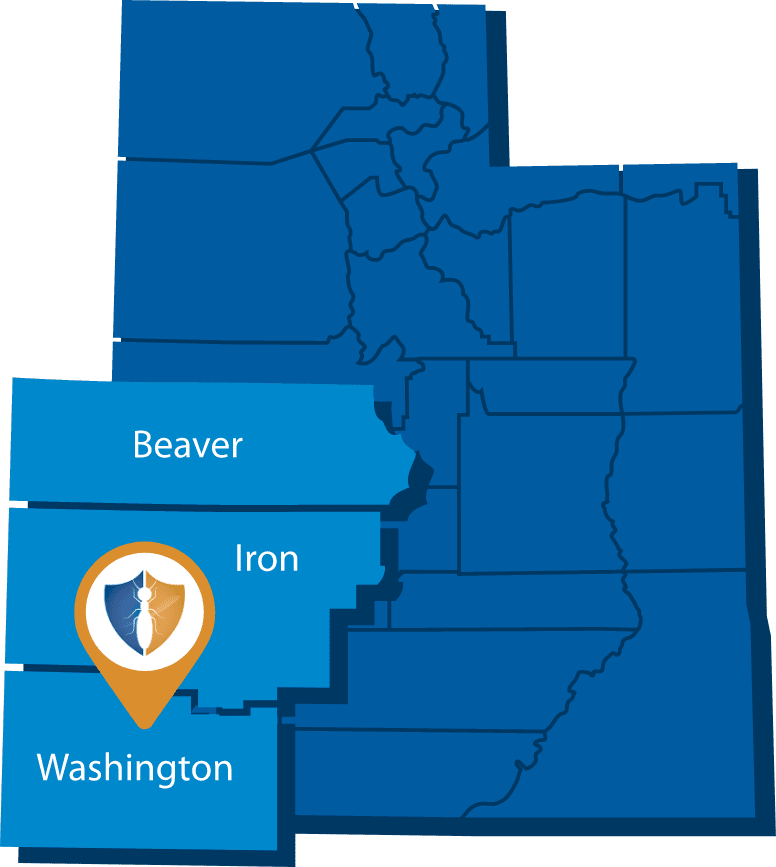 Termite Treatment in Enoch
Your home is often your biggest investment. Every year, homeowners are faced with the gut-wrenching discovery that their home has been invaded by pesky wood-eating pests. These bugs quickly and easily cause extensive damage to your home. Often, repairs are very extensive and costly. At Western Pest Control, our termite treatments can offer your preventative and responsive services to best protect your investment from drywood and subterranean termites.
Signs of Termite Activity 
The warning signs for termites may be hard to identify to the untrained eye. Here are some common indicators that you have a problem:
Mud tubes, particularly around the foundation of your home
Wood floors that sag or squeak
Discarded wings
Wood that sounds hollow when tapped
Bubbles on wood floors or painted walls
Professional Termite Control
When termites are eating away at your beloved home, it's time to call in the professionals to exterminate them. Otherwise, you risk causing more damage to your house by using a potentially ineffective treatment. When you partner with us for termite control, you can expect:
A detailed inspection of your home that's free for new customers by an expert termite specialist.
Our specialist will create a customized plan to meet your unique needs. We offer slab treatments, spot treatments, bait stations to assist in whatever situation you might be in.
 Long-term protection. We ensure protection for the long-term by using proven preventative systems. 
Free Re-Treatments if they come back. We guarantee complete elimination and if they come back, then we will retreat for free. 
Rodent Control in Enoch
Finding rodents in your home can be unsettling. Not only do they leave droppings, contaminate food, and gnaw on electrical wires and your home's structure, but they also can transmit diseases such as Hantavirus, Salmonella, Typhus, and more. Luckily for you, Western Pest Control has expert rodent control to protect your home from these mice and rats. 
Our rodent control in Enoch includes:
A free inspection completed by a certified rodent exterminator.
The identification of entry points.
The elimination of all mice and rats using baiting or trapping devices.
The prevention of future infestations by sealing entry points.
Regularly scheduled follow-up appointment to ensure your home is rodent-free—guaranteed.
Bed Bug Treatment in Enoch
If you think that your home may be infested by bed bugs, you need to act fast. These sneaky pests multiply at lightning speed, and no home remedy or basic pesticide will put a stop to their quick reproduction. Tell-tale signs of infestation include red bites on your skin; small red, brown, or black stains on your sheets or furniture; and shed bed bug skins. Whether you've already identified an infestation or think you've spotted a bug or two, it's time to call Western Pest Control for bed bug treatment in Enoch!
Guaranteed Relief from Bed Bugs
After 20 years servicing the homes of Utah, we know what it takes to get rid of bed bugs. Our bed bug exterminators undergo bi-monthly training to ensure they stay up-to-date on the best treatment options available. When you partner with Western Pest Control, we guarantee the highest quality solutions and a bed bug-free home. 
In order to ensure complete elimination, our bed bug treatment in Enoch includes the following:
A thorough inspection!—our bed bug exterminators thoroughly search your home.  
A customized treatment plan—designed to rid your property of bed bugs quickly and efficiently.  
Full treatment of all affected areas—we thoroughly treat all areas harboring bed bugs including bedding, floors, walls, and more.  
A two-week follow-up service— to make certain that your bed bug problem is completely eliminated.
30-day guarantee—If you are unsatisfied with our service, we will return within 30 days and re-service your home at no cost to you!