Get Pest Control in Mesquite for Under $40/ month!
Pest Control in Mesquite, NV
in Mesquite to give you back your home! With eco-friendly service and a team of exterminators that you can depend on, you'll be able to enjoy a clean home for years to come. There's no need to settle for anything but the best when you need to get rid of pests in your home, so give us a call today to get started. 
Our pest control services include:
A detailed and free inspection of your home.
A tailored pest removal plan to give you back control of your home. 
Multiple packages available to fit your budget. 
Easy online payments.
EPA-approved and eco-friendly products and techniques. 
And more!
Capable and Experienced Mesquite Exterminators
Since 2001, our team of highly-trained exterminators specializes in keeping your home of some of Mesquites most persistent pests, including: 
Ants 
Roaches
Spiders
Crickets
Silverfish
Earwigs
Beetles
Stinging Insects
Scorpions
And more!
Image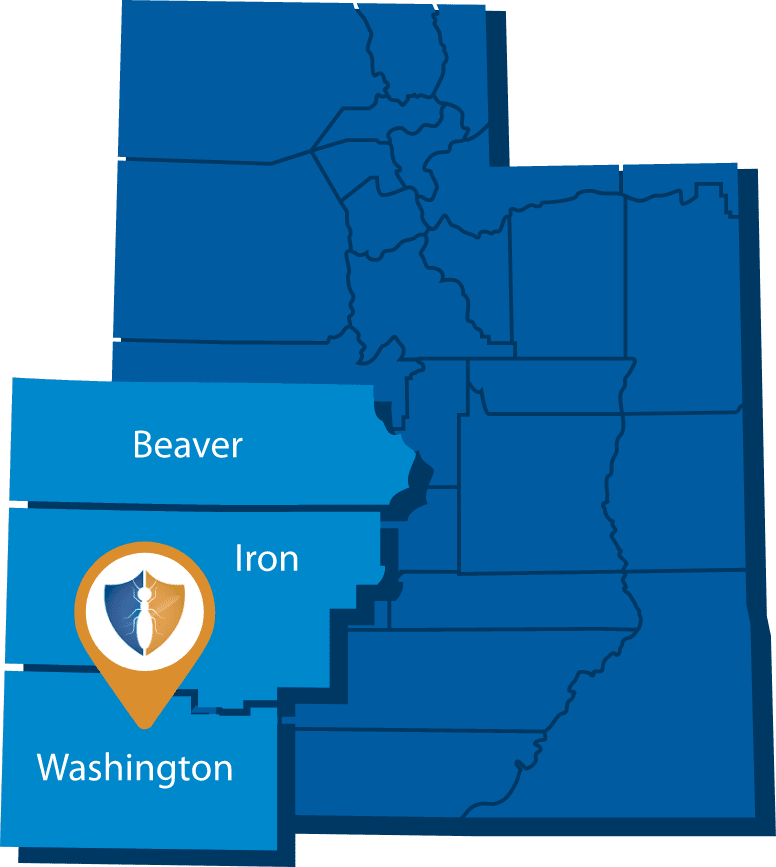 Rodent Exterminator in Mesquite, NV
Mice, rats, and rodents of all sorts get into people's homes every day. Some of nature's most destructive and intelligent pests, rodents are experts when it comes to sneaking indoors and once they get there, that's when the problems begin. Instead of dealing with a rodent infestation, get rid of mice and rats quickly with our professional and reliable rodent control in Mesquite. Here at Western Pest Control, we resolve even the most severe infestations quickly and efficiently. When you trust our rodent control, you can expect:
A top-to-bottom in-home inspection from a local exterminator.
Dependable baiting and trapping services to get rid of mice and rats quickly.
Rodent exclusion to help prevent future infestations. 
Regular follow-ups during which we'll make sure that rodents don't come back. 
Our 30-day service review covers free retreatments if mice and rats come back. 
Complete Rodent Removal.
And more!
Termite Exterminator in Mesquite, NV
Of all pests, termites consistently cause the most damage to homes nationwide. For an individual homeowner, the damage can amount to thousands of dollars in repairs. Protect your investment in your home with our proactive and preventative termite treatment.
When you choose Western for termite control in Mesquite, you can expect:
An in-depth inspection of your home.

A treatment plan designed just for you.

Slab treatments that protect your home from subterranean termites.

Spot treatments around your home to target drywood termites.

Bait station installation for long-lasting protection. 
Our combination of targeted spray treatments and bait stations safeguards your home both in the short and the long term, allowing you to rest easy. And our experienced termite exterminators are careful to ensure that your loved ones don't come into contact with any of the treatments we apply to fend off termites. Get rid of termites for good with help from Western!
Bed Bug Exterminator in Mesquite, NV
Bed bugs are some of the most talented hitchhikers of the pest world. They will travel to new homes by way of luggage and used furniture, surviving by feeding on human blood while you sleep. If you suspect these insects have found their way into your home, our bed bug control in Mesquite is designed to give you thorough relief.
When you call us for bed bug treatment, we will:
Have one of our highly trained bed bug exterminators to inspect your home.

Build a custom treatment plan to get rid of bed bugs in your home.

Thoroughly treat all areas of infested rooms of your house.

Return for a follow-up treatment 2 weeks later.
Bed bugs can be one of the hardest pests to boot, especially since DIY treatments often make the problem worse. If you've found bed bugs in your home we're here to help you get back to a normal, bed bug-free life! For the best bed bug removal and control in Mesquite, get help form the experts.
Your Satisfaction Guaranteed
At Western Pest Control, we aim to earn your confidence and let our results speak for themselves. That's why we back up each of our services with a 100% satisfaction guarantee. If you aren't happy or if pests return, we'll make things right. Just let us know and we'll perform all necessary re-treatments at no additional cost! Have any further questions? Contact us today, or check out our reviews for our 5-star rated pest control services in Mesquite!