Pest Control in Cedar City Starting At $39.77/Month
What kind of problem are you having? Select all that apply.
Pest Control in Cedar City
Here in Cedar City, our pest population is abundant thanks to our warm climate. Bugs and rodents become more active when the temperature increases and seek shelter in your home when the temperature drops. If your home is being invaded by critters, it's time to get rid of them. Here at Western, we offer residential pest control services that stop unwanted invaders in their tracks. Our program eradicates a wide variety of pests, including:
Ants 
Roaches
Spiders
Crickets
Silverfish
Earwigs
Beetles
Stinging Insects
Scorpions
And more!
Quality Service Since 2001 - Customized Pest Treatments
At Western Pest Control, quality is our number one priority. Our exterminators in Cedar City are thoroughly trained in providing the best pest control service possible. We are a team of technicians that take pride in our work, and we know a thing or two about getting homes pest-free. When you team up with us for pest control in Cedar City, we will:
Inspect your home and identify any potential entryway into your home.
Create a customized treatment plan to effectively eliminate unwelcome insects.
Provide family-friendly treatments using EPA-approved formulas. 
Offer a 100% 30-day service guarantee.
And more!
From start to finish, you will be treated with the utmost care by our local exterminators. We really care about our customers, and we treat you like neighbors because you are!  We are locally owned, and live around Cedar City just like you. When you partner with us, you can rest assured knowing you will be treated as a member of our Western family! 
Image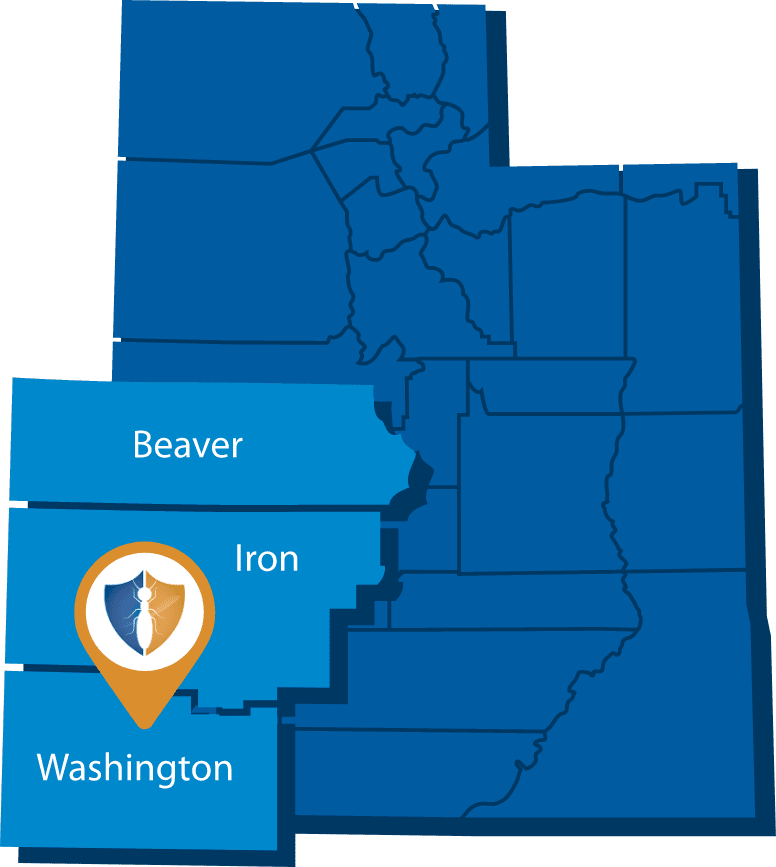 Effective Rodent Removal
Your home should be shared with your loved ones - not rodents. Not only are rodents capable of contaminating your kitchen with eating your food and leaving droppings in your cooking space, but they can also threaten the interior of your home by gnawing on electrical wires or insulation. Here at Western Pest Control, we provide rodent control that kicks rats and mice to the curb.
Effective Rodent Control In Cedar City
Rodents are no match for our team. Not only is our staff highly trained, but they are experienced, too. Our technicians have been safely and effectively removing rodents for years. When you partner with us for rodent control you can expect: 
A thorough inspection of your home to search for any rodent infestation and possible entry and exit points.
Recommendations for preventing a future infestation.
Removal of all rodents using baiting or trapping, depending on the needs of your home.
Quality care and service from our friendly and highly-trained rodent exterminators.
Recurring follow-ups.
Our rodent treatments are guaranteed and effective. We offer a 30-day service guarantee, so if rodents come back, we will too. When you choose us for rat control in Cedar City, you don't have to worry about a reinfestation!
Bed Bug Treatment in Cedar City
Your bed is the last place that should be infested by bugs. Bed bugs are known for hiding in mattresses, disrupting sleep, and leaving itchy bites on our skin. Unfortunately, bed bugs are some of the most resilient creatures on the planet. If you are experiencing a bed bug infestation, you need to act quickly. Thankfully, at Western Pest Control, we offer bed bug treatments that will eliminate bed bugs so you can sleep in peace again.
Quality Bed Bug Control
Here at Western, we pride ourselves on our quality service. You won't find us performing a job halfway. We are committed to providing the best bed bug treatments in Cedar City. When you choose us, our bed bug exterminators will:
Thoroughly inspect your home to look for bed bugs and their hiding places.
Create a customized treatment plan based on the needs of your home.
Treat bedding, floors, walls, and more in all affected areas of the home.
Follow up after two weeks to make sure bed bugs are gone for good.
And more!
Our bed bug control is guaranteed to be effective. If these bugs come back within 30 days of our treatment, give us a call. We will return to your home and retreat for free.
Termite Control in Cedar City
Termites can go undetected for months or even years, as they gnaw away at your home. There are a few signs you can look for to determine whether you have an infestation. Signs of a termite infestation include:
Mud tubes.
Sagging floors.
Hollow wood.
Squeaking floors.
If you are still unsure if there is termite activity in your home, call our local exterminators! We will create a treatment plan tailored to your needs to get rid of termites for good.
Detailed Termite Treatments For Complete Elimination
Having decades of experience in the industry, we know that our exterminators can provide you with the best termite control in Cedar City. With extreme precision and powerful formulas on your side, you can rest assured you will win back control of your home. Here's what else you can expect:
A thorough examination of your home by one of our technicians.
A treatment plan designed for your home and its conditions.
Slab treatments for Subterranean termites.
Spot treatments for Drywood termites.
Bait stations to prevent future infestations.
Complete elimination!
Ensure your protection today with our expert technicians and thorough baiting techniques. When you put your trust in us, you have the opportunity to be completely protected from termites for as little as $39.77 a month! Call us today to learn more about how you can get started with our expert termite treatments!
Effective Pest Control From Local Exterminators
We here at Western understand how frustrating it can be to live with pests in and around your home.  Thankfully when you team up with us, you're in safe hands!  We use our trained and certified technicians to ensure that once we come around, the bugs are permanently dealt with!  We know that sometimes one service isn't enough to fully stop an infestation in its tracks. Because of this, we offer free re-treatment if you still are spotting critters after we treat your home.  Along with this, after the re-treatment, if you are still seeing bugs, then we are willing to refund your payment. If you need to get rid of pests in Cedar City, team up with the pros at Western Pest Control!