Pest Control in Hurricane Starting At $39.77/Month
What kind of pest problem are you having? Select all that apply.
Pest Control in Hurricane
A pest infestation isn't something that should be brushed to the side. Whether you're currently experiencing one or want to prevent a future one it's time to keep your home and family protected!  Western Pest Control is here to help with our pest control services. Our professional exterminators in Hurricane, Utah are thoroughly-trained on eradicating any pest that comes their way. Our pest control program gets rid of multiple insects, including:
Ants 
Roaches
Spiders
Beetles
Silverfish
Earwigs
Crickets
Stinging Insects
Scorpions
And more!
Custom Pest Exterminator Services
Here at Western, we are proud to offer professional customized pest control treatments. We understand that every infestation is different than the next, so we believe our pest control in Hurricane should be treated the same way. We are committed to providing the best possible service to provide quality results. No matter your need, Western is here to help. We pride ourselves on offering the best pest control in Hurricane. Come see the difference with our pest control service!  When you choose us as your trusted pest control company, you can expect:
A thorough inspection of your home.
A custom treatment plan for the elimination of unwanted bugs and rodents.
Recommendations on how to prevent reinfestation and protect your family in the future.
The use of EPA-approved formulas for family-friendly treatments.
A 100% 30-day service guarantee!
Image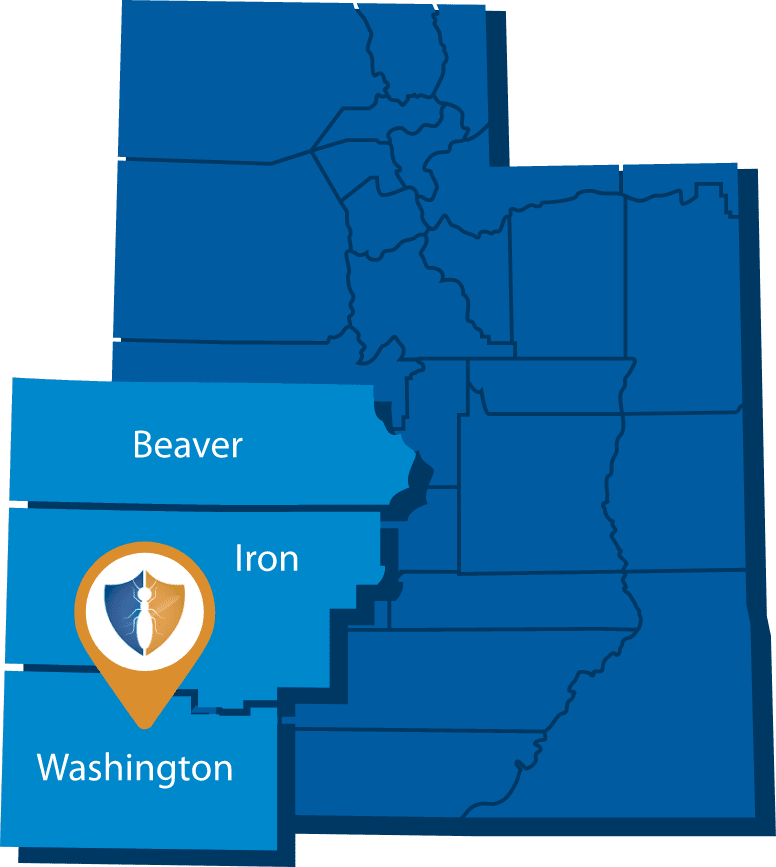 Rodent Exterminator in Hurricane UT
Rodents aren't just annoying creatures that steal your food. Rats and mice are capable of contaminating your space with their droppings and putting your home at risk by chewing on insulation or wiring. If you've been unsuccessful with store-bought traps, don't give up hope. Rodents are tough to get rid of on your own, but they are no match for our rodent exterminators. Here at Western Pest Control, we offer rodent control that effectively gets rid of these pesky invaders. When you partner with us for rodent treatments in Hurricane, we will:
Thoroughly search your home for rodents and their entry points.
Recommend preventive measures to eliminate future rodent invasions.
Utilize baiting and/or trapping to successfully get rid of all rodents.
Follow-up to make sure rodents stay gone for good.
And more!
Don't delay service and let the rats and mice multiply. Rodents will be a concern of the past after our effective treatments! 
Bed Bug Treatment in Hurricane, Utah
Bed bugs are small yet tough insects. In fact, they are considered to be some of the most resilient creatures on the planet. Bed bugs can be next to impossible to get rid of on your own. If you're dealing with a bed bug infestation, it is wise to contact an exterminator. We offer bed bug treatments that totally eliminate these pests. Say "goodbye" to itchy bites and "hello" to a solid night of sleep. Our bed bug treatments in Hurricane consists of:
A rigorous inspection of your home to search for bed bugs in hiding places throughout the home.
A unique treatment plan designed to satisfy the needs of you and your loved ones.
A thorough treatment of your entire home by a highly-trained local exterminator
A two-week follow-up appointment to make sure bed bugs are completely eradicated
And more!
Termite Exterminator in Hurricane Utah
Battling termites can leave you feeling helpless, we get it. With the amount of destruction they can cause to the structure of your home, you can be left paying a hefty amount in repairs. At Western Pest Control, our experienced technicians can provide highly effective treatments that ensure the protection of your property in Utah — for the long-run. Place your trust in our termite control today to experience a home free of termites again!
Unique Termite Treatments for Your Home
When it comes to termites, experience and precision are key. With over two decades of experience in the business, you can have faith in our knowledgeable exterminators to get the job done, and efficiently! Our termite Treatment in Hurricane utilizes formulas that are guaranteed effective when applied by our service professionals. When you partner with us, you can expect:
An inspection of your house to determine what areas of your home have been affected.
Create a treatment plan tailored specifically for your home's needs.
Slab treatments.
Spot treatments.
Use of bait stations.
Long-term protection!
Here at Western Pest Control, we know that our technicians provide the best services possible. This is why we ensure that you have protection for the long haul by utilizing our baiting methods! Our top priority is to give our customers the termite control that they deserve. Team up with us today to receive complete protection from termites for as low as $39.77 a month!
Local Pest Control for Your Family
As a locally owned and operated pest control company, we are happy to offer quality treatments to your family. We use EPA-approved formulas and family-friendly treatment plans to ensure you and your loved ones are safe. Check out what our satisfied customers have to say with our 350+ 5-star pest control reviews in Hurricane.