Pest Control in Beaver Starting At $39.77/Month
What kind of problem are you having? Select all that apply.
Pest Control in Beaver
With nearly 20 years in the business, we can assure you that our Beaver exterminators will safely and efficiently remove all the bugs from your home! Our Beaver pest control technicians will provide you with top-of-the-line service that will leave your home protected from any pest. Contact our highly-trained experts today to get rid of your worries!
Your Best Pest Control Solution
Put your trust in Western and we'll create a custom family-friendly treatment plan just for you. We'll make a thorough inspection of your home to search for pests and identify the entry points. There are a variety of pests that can sneak into your home. Our Beaver pest control exterminators target many pests, some being:
Spiders
Roaches
Beetles
Ants
Silverfish
Crickets
Stinging insects
And more!
Not only will we remove your current pest problems, but your individualized plan will keep your home protected from future infestations. Our pest control in Beaver will leave you feeling safe in your home again. Don't wait anymore, contact Western today to get the service you deserve!
At Western Pest Control, our highly-trained Beaver exterminators operate with great efficiency. We have so much trust in our experienced technicians that we offer a 100% 30-day service guarantee! If ever unsatisfied with our services, contact us at 435-383-4303. We will happily re-treat your home for free! We'll always do what we can to keep our neighbors safe and happy.
Image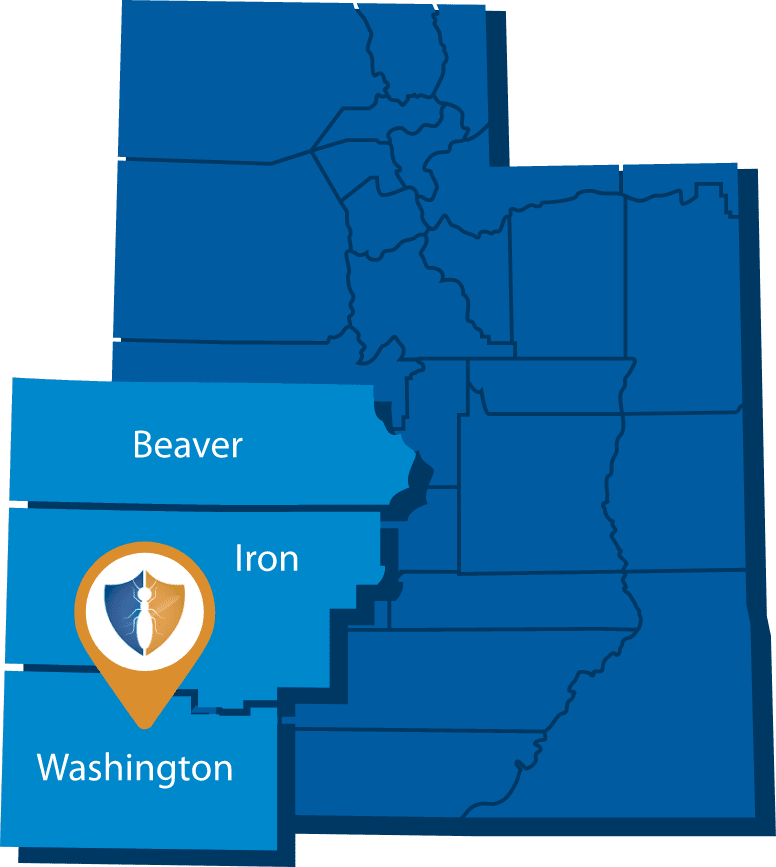 Rodent Exterminator in Beaver
Are you tired of sharing your home with rodents? You're not alone. These destructive pests need no invitation to enter your home and make it their own. When they do, they bring with them diseases such as Hantavirus and salmonella, putting you and your loved ones at risk! If you want rodent control in Beaver that you can trust to get rid of rats and mice once and for all, you want Western Pest Control. Since 2001, we've been protecting homes just like yours. When you partner with us for rodent control in Beaver, you can expect the following:
A detailed inspection to identify the severity of your situation
Sealing of entry points to prevent future invasions
Trapping and removal of rodents in your home
Follow-ups to keep rodents gone for good
Get a Rodent-Free Home!
Are you sick and tired of struggling with rodent control in Beaver? If store-bought solutions aren't doing the trick, you want professional help. Here at Western Pest control, we've spent nearly two decades perfecting our techniques for rodent removal, meaning that you're getting only the best when you work with us. In fact, we're so sure that we can solve your problem that we guarantee it: when you work with us, you get our 30-day warranty. 
Bed Bug Treatment in Beaver
Few homeowners know what to do when faced with a bed bug infestation. These insects use fabric items like secondhand furniture or luggage to sneak into homes, and their presence will often go unnoticed until they've established a large colony. For bed bug treatment in Beaver that will eliminate these bugs completely and safely, look no further than Western Pest Control. 
Get Quick Relief with our Thorough Treatments
Bed bugs are no match for our team of experts! When you sign up for a treatment with us, you'll get the following services from your bed bug exterminator in Beaver:
A comprehensive assessment and inspection by your exterminator to identify areas of bed bug activity.
A personalized treatment plan designed to meet your home's needs.
Thorough treatments of all affected rooms.
Service backed by bi-monthly trainings and top-of-the-line products.
A bed-bug free home!
Termite Exterminator in Beaver
Have you noticed your walls or floors bubbling? Does the wood around your home sound hollow when you tap on it? If you answered yes to these questions, you may have termites living in your home. Contact Western Pest Control, and we'll come out and thoroughly inspect your home for termites. We offer comprehensive termite control in Beaver to get you the help you need and prevent costly damage.
Effective, Long-term Termite Control
Termites destroy the structural integrity of your home over time, but we provide reactive and preventative treatments to save your home! Our exterminators work diligently to give you the effective, quality termite control you deserve. For new customers, we offer free termite inspections, so you can experience the relief you deserve!
When you choose us for termite control in Beaver, you can expect: 
A thorough inspection of your home by one of our local exterminators.
A custom treatment plan to determine what action plan is best for you and your family.
Quick-acting slab treatments to completely eliminate Subterranean termites from your home.
Effective spot treatments to target Drywood termites and eliminate them at the source.
The use of bait stations to ensure long-term protection and to guarantee that termites stay out of your home for good.