Pest Control in La Verkin Starting At $39.77/Month
What kind of problem are you having? Select all that apply.
Pest Control in La Verkin
With all the striking beauty and hospitable weather in Utah, it's no wonder bugs love it here!  There is so much nature around us, and pests belong there—not in your home. Don't waste your time trying to eliminate bugs on your own, because they will eventually come back.  With our advanced treatment methods along with a keen eye for proactive pest control, we have a solution for the bothersome insects who love to inhabit your home. From scorpions to spiders, we can eliminate anything.  Our pest exterminator in La Verkin service helps to control pests such as:
Scorpions
Ants
Silverfish
Spiders
Beetles
Cockroaches
Crickets
Earwigs
And much more!
Trusted & Trained Pest Control Exterminators
Here at Western Pest Control, our team is a collective group of expert technicians who know pest control like the back of their hands.  Our technicians participate in bi-weekly training sessions so they are always on the cutting edge of the pest control industry. Not only that, but our technicians are trained specifically to cater to our local pest problems.  You can feel comfortable knowing that you are receiving quality pest control from experts filed with the latest and greatest knowledge on pest control in La Verkin.
4.9 Star Rating—Quality Guaranteed!
When you choose Western, we guarantee that you will be satisfied with our services. As part of our commitment to customer satisfaction, we offer a 100% 30-day service guarantee on all of our pest treatments! If you are unhappy with the results of our treatments, we will return in no time to fix the issue for free.  If you aren't happy—neither are we! The satisfaction of our customers is our main priority, and we will do whatever it takes to make that happen.
Image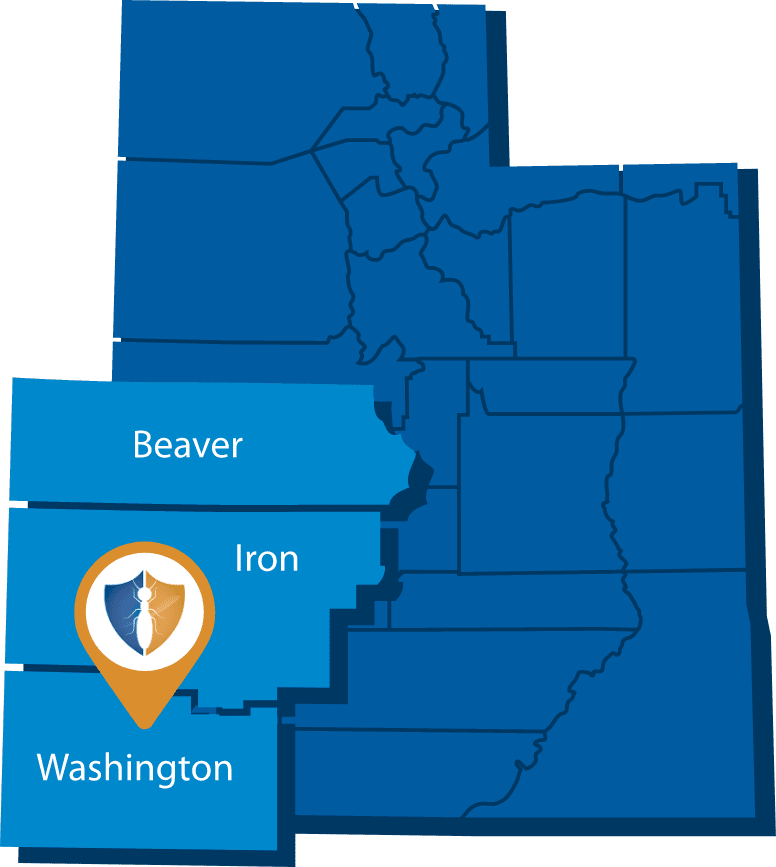 Rodent Control in La Verkin
Mice and rats can be a scary surprise when you spot them in your house, making quick relief a top priority. Luckily, with fast and affordable services options in La Verkin, Western Pest Control has got you covered! Our professional La Verkin rodent control services are designed to help you rid your home of rodents quickly and efficiently, giving you the fast-acting and long-lasting relief you crave!
Fast Rodent Relief When You Need It Most
Rodents are notorious for quick reproduction so it's important to act quickly once you've spotted an infestation. That's why we've designed our services to tackle rodents head on, working quickly to eliminate existing rodents and prevent new ones so you can stop your infestation in its tracks. When you partner with us for your rodent control in La Verkin, you will receive:
A thorough home inspection carried out by one of our rodent control specialists
Baiting and trapping to eliminate existing rodent invaders
Professional advice to help you keep your home rodent-free  
Exclusionary work to seal off possible entry points into your home
Regular follow-up visits to make sure your home stays rodent-free
A 30-day service guarantee to promise that if rodents return, we'll retreat for free
Give us a call at 435-383-4303 to schedule your free home inspection!
Termite Control in La Verkin
Despite their small size, termites can do big damage to your home. In fact, termites cost U.S. homeowners over $5 billion in damages each year! That's why you need Western Pest Control. Since 2001, we've been providing fast and effective termite control in La Verkin, and we want to help you take back your home from these destructive invaders. Your home is your haven and biggest investment—you shouldn't let termites take that away from you. Call your neighbors at Western Pest Control today at 435-383-4303 and get La Verkin termite control you can trust.
SCHEDULE YOUR FREE INSPECTION TODAY!
Work with the Experts in Termite Control 
When you need La Verkin termite control, you want treatments you can trust. There are a lot of store-bought and DIY options, but few stop the problem at its source, and many can even damage your home and expose you and your loved ones to dangerous chemicals. Instead of wasting your time and money, let Western Pest Control take care of it. Our techniques are backed by a 4.9 star rating on Google, meaning that you can trust the service you get with us. When you let us help you with termite control in La Verkin, you can expect the following:
A thorough home inspection by one of our trained and professional La Verkin termite exterminators
A treatment plan tailored to meet your unique needs
Slab and spot treatments to treat multiple types of termites 
Bait stations to get to the root of the problem by destroying the colony at its source—meaning your termites will be gone for good.
Bed Bug Control in La Verkin
When bed bugs infest your home, you're left feeling a little uneasy. No need to worry—Western Pest Control is here to help! We offer bed bug control in La Verkin to get you the comprehensive protection you need. 
A Custom Treatment Plan for Your One-of-a-Kind Home
If you've noticed dried blood stains on your sheets or pillowcases, chances are you have bed bugs living in your home. Luckily, we provide you with highly effective bed bug treatment for total elimination. Our exterminators in La Verkin work diligently to ensure you get the service you deserve. With custom treatment plans for every home, we're guaranteed to eliminate even the stubbornest of bed bugs!
When you partner with us for bed bug control, we will:
Send a trusted exterminator in La Verkin to inspect and treat your home for bed bugs.
Rigorously inspect your home to account for all bed bugs.
Formulate a bed bug treatment plan catered to your home, which is unique and requires special attention.
Fully treat infected areas of your home to ensure complete extermination.
Inspect your home two weeks following service and treat accordingly, if needed, for long-term prevention.