The Best Pest Control in Santa Clara Starting At $39.77/Month
What kind of problem are you having? Select all that apply.
Pest Control in Santa Clara
Whether you're dealing with one bug or a full-blown infestation, we offer pest control that will effectively get rid of pests. Between our recurring service and family-friendly treatments, pests don't stand a chance against our exterminators in Santa Clara. Our pest control services target the elimination of:
Ants
Roaches
Spiders
Crickets
Silverfish
Earwigs
Beetles
Stinging Insects
Scorpions
And more!
Your Satisfaction - 100% Guaranteed
Here at Western Pest Control, customer service is our number one priority. We will always do our best to accommodate our customers and that's why we are proud to offer a 100%, 30-day service guarantee. If you still see pests after we service your home, give us a call at 435-383-4303. We always do what it takes to make it right!
Quality Results With Our Family-Friendly Treatments
Our services are unique, just like you. We customize each of our pest control treatments to meet the needs of each family and home. When you partner with us, our exterminators in Santa Clara will:
Thoroughly inspect your home to search for pest activity, harborage areas, and entry points.  
Create a custom pest control plan that is most effective for your individual situation.
Use EPA-approved, family-friendly formulas to effectively remove pests.
Treat your home on a recurring basis to protect your home year-round.
Get rid of pests long-term!
Image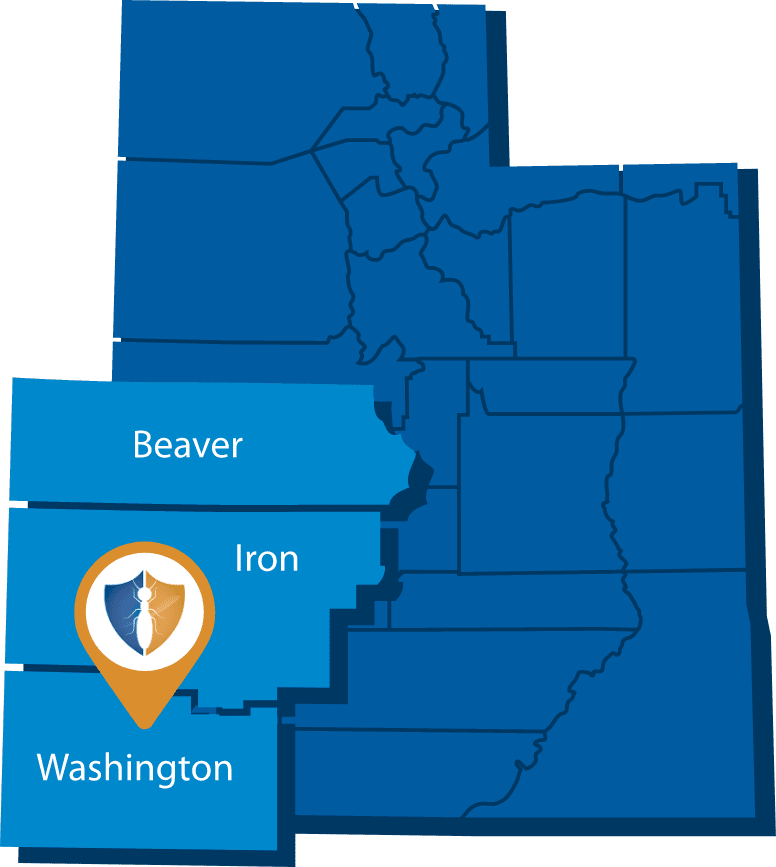 Termite Exterminator in Santa Clara, UT
Termites are hard to detect if you don't know what you're looking for, giving them plenty of time to wreak havoc on your home. Repairing the damage they've caused comes with a hefty price tag and seemingly endless frustration. However, our expert technicians know exactly what to look for and how to help. Our termite control in Santa Clara will have your home pest-free once again and keep it protected for the long haul.
Get Rid of Termites for Good
We've been in business for almost two decades, so you can count on us for top-of-the-line treatments, experienced exterminators, and effective service for termite control in Santa Clara. When you trust our termite exterminators with the safety of your home, you can expect:
A detailed inspection of your house to determine the severity of your problem.
A customized treatment plan that meets your unique needs.
Spot treatment for drywood termites that target them with unmatched precision.
Bait stations for complete termite removal and prevention.
Our team is serious about bringing back your safety and peace of mind, so trust us for your termite treatment. We'll rid your home of unwanted pests in no time, letting you get back to living comfortably.
Rodent Exterminator in Santa Clara, UT
If rodents have invaded, you need a solution that's quick and effective. That's where we come in! Our team of experts has the tools and knowledge necessary to give you the relief you're looking for. With our rodent control in Santa Clara, rats and mice will be a thing of the past!
Get Rid of Rodents with our Quick and Effective Solutions
When you have a rodent infestation, fast action is important. This may make DIY treatments seem tempting, but they don't actually get to the root of the problem. Instead, trust our rodent control for lasting protection. When you trust us, our rodent exterminators will:
Inspect your home from top to bottom, searching for rodents and their hideouts.
Make a custom treatment plan based on your specific needs.
Strategically place bait and traps to get rid of all rodents.
Complete exclusion repairs to seal off exterior entry points.
Return to your home on a regular basis to ensure rats and mice haven't found their way back inside.
30-Day Rodent Control Service Guarantee 
Here at Western, we are proud to go above and beyond for our customers. All of our employees are dedicated to providing the best services possible, and it shows in our actions. To make sure you're satisfied, all of our Santa Clara rodent control services come with our 30-day service guarantee. If rodents come back, all you have to do is let us know! We'll gladly return to your home and make things right!
Bed Bug Exterminator in Santa Clara
Bed bugs are stubborn pests that burrow deep into the creases of your mattress and in the fibers of your carpet, hide away behind your baseboards and wallpaper, and can even squeeze into your outlets. They're difficult to locate and even harder to eliminate, but they're no match for our local bed bug exterminators. We work swiftly and effectively to get rid of bed bugs from your entire home. 
Guaranteed Relief from Bed Bugs
When it comes to bed bugs, you deserve fast relief that you can count on. That's why our bed bug treatment comes with a 30-day guarantee. If you aren't satisfied with our services, we will happily come back to make things right. 
Our bed bug treatment includes:
A careful inspection of your home, searching every nook and cranny for bed bugs.
The creation of a customized treatment plan based on the severity of the infestation.
A thorough initial treatment of your home with products that are proven to eliminate bed bugs.
A follow-up service two weeks later to ensure bed bugs are gone for good.
If you're ready to get rid of pests, get help from the best pest control company in St. George today!