Pest Control in Washington For $39.77/Month
What kind of problem are you having? Select all that apply.
Pest Control in Washington
There's nothing more unnerving than being surprised by a pest in your home. Our professional pest control experts in Washington, UT are experienced and highly trained to tackle any issue your home may be facing.
As a locally owned and operated pest control company, with nearly 20 years of experience, We know what it takes to get the job done. Our exterminators in Washington, Utah are highly trained and certified to take on any pest problem your home may be dealing with. From ants to scorpions, we can handle any type of infestation.
We treat many different types of insects including:
Ants
Spiders
Roaches
Silverfish
Beetles
Crickets
Earwigs
Stinging Insects
Scorpions
And more!
Our pest control experts will keep you informed throughout the process and will strive to ensure you are satisfied. You can trust our pest and scorpion control technicians to work quickly and effectively to get rid of bugs for good. Check out our 450+ 5-star pest control reviews in Washington.
Pest Control Services Customized To Your Needs
Here at Western Pest Control, we know one-size-fits-all treatments don't work. That is why we start every service with a thorough inspection of your space. Our local exterminators will then use this information to formulate a custom treatment strategy for your home. Our team is experienced and knowledgeable about local pests, so they can provide valuable insights and recommendations on how to avoid future infestations.
Image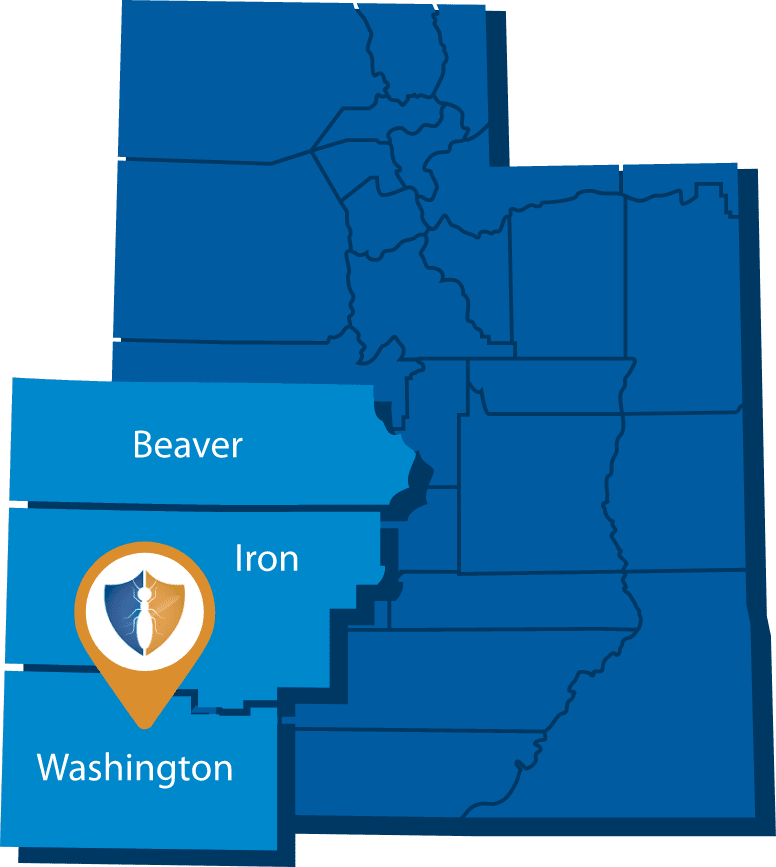 Rodent Exterminator in Washington, Utah
Rodents don't just cause significant damage to your home and property, but they can also carry diseases that are dangerous to your family and pets. Rats have been known to carry Hantavirus, Typhus, and Salmonella. They also regularly chew through electrical wires and insulation which can result in expensive repairs.  Thankfully, our rodent control treatments in Washington will keep you worry-free!
Our rodent exterminators will:
Identify the signs of an infestation and determine how rodents are entering your home.
Utilize baiting and trapping methods to eliminate the rodent population from your home.
Provide recommendations on how to seal those entry places to avoid rodents in the future.
Offer recurring services to provide continuous care for your rodent issues and to proactively avoid any impending ones.
Get rid of rats quickly when you give us a call today at 435-383-4303!
Bed Bug Treatment in Washington, Utah
Are bed bugs in your home driving you crazy? We understand how frustrating it can be to deal with a bed bug infestation. Finding these pests in your home can be extremely unnerving. These hungry little insects can be extremely difficult to eliminate from your home and they often return as soon as you think that they're gone. Our professional bed bug treatments in Washington, Utah can provide immediate and long-term relief so you can get a good night's sleep.
Our bed bug treatments include:
A detailed inspection of your space to determine where the bugs are hiding.
A specialized strategy to eliminate bed bugs once and for all.
A top to bottom treatment to exterminate all existing bugs and their eggs.
A two-week follow-up to be absolutely sure that your problems are a thing of the past.
If you are tired of itchy bites and restless sleep, give our bed bug exterminators a call, we'll get rid of bed bugs fast!
Termite Exterminator in Washington, Utah
Termites can be a homeowner's worst nightmare but they don't have to be! Many people don't realize when they have a problem, which is why our experts are familiar with the signs of an infestation such as mud tubes, sagging wood floors, and hollow-sounding wood. If you think you might have a termite infestation, it is always best to act quickly in order to avoid costly damage! 
Our termite treatments will eliminate these pests from your home by using slab treatments, spot treatments, and bait stations to ensure that every single one is eradicated from your home. Our exterminators take their responsibilities seriously and will work hard to ensure your home and family are protected from termites. 
Get help from our Washington and St. George exterminators today!