St. George Pest Control Starting At $39.77/Month
Pest Control in St. George, UT
Nobody wants to find pests in their home and we understand that you want to get rid of them asap.  DIY options like sprays, traps, and other home pest control treatments are only a quick fix—they don't get to the source of your infestation. That's why our team of local St. George exterminators target a variety of invaders, such as:
Ants
Spiders
Silverfish
Beetles
Scorpions
Roaches
Crickets
Earwigs
Stinging Insects
And more!
Recurring Pest Services for Complete Protection
It's not enough to just stop your existing pest problem. When you invest in ongoing protection from Western, our exterminators work to defend your home against future infestations as well. With quarterly treatments, we reinforce protective measures to keep pests at bay for good. So if you're ready to get rid of pests long-term, contact our team of local exterminators, and we will be right out to help you!
Your Satisfaction, Guaranteed
We're so confident that our pest services can solve your problems, we even offer a 100% satisfaction guarantee. If you notice vermin in-between regularly scheduled appointments, reach out to our customer service team and we'll send someone out at no cost to you to resolve the problem!
Image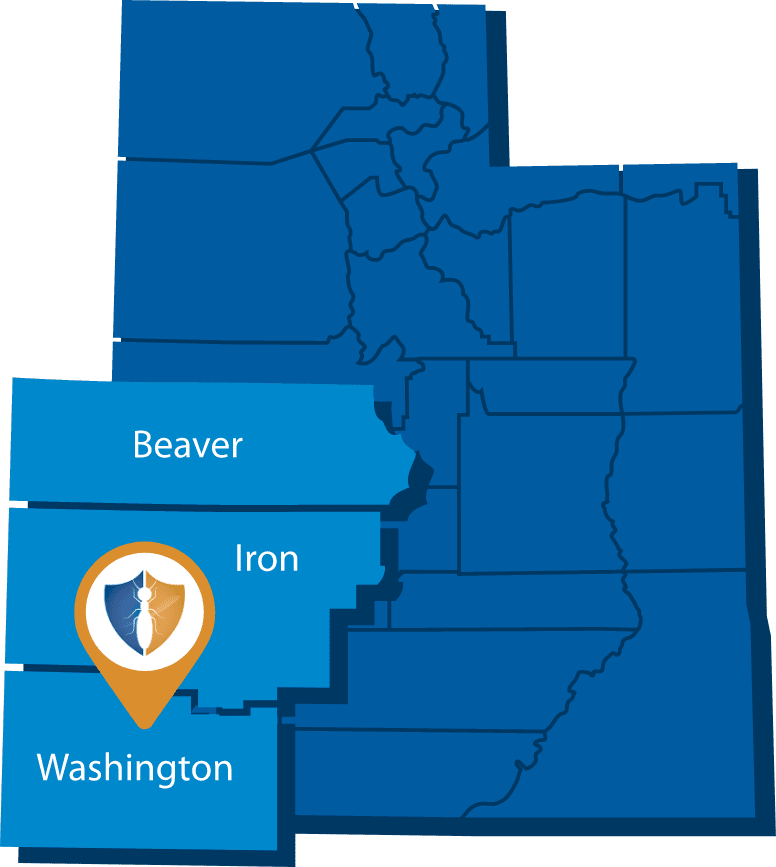 Custom St. George Pest Control Solutions For Guaranteed Results
Your home is unique—so why put your trust in a company that's going to treat it just like any other? At Western Pest Control, we offer programs tailored to the exact nature of your pest problems and designed to meet the unique needs of your home, making bugs and rodents a thing of the past!
Our pest control in St. George, Utah includes:
A thorough inspection, detecting areas where critters are living inside your home, as well as places where they're finding entry to your home.
A customized action plan based on one of our proven pest treatment programs to eliminate threats and keep them out.
Eco-friend products that are safe for your family and pets.
Rodent Exterminator in St. George
If you notice a tail disappearing around the corner or squeaking in the walls at night, you may have a rodent problem on your hands. Not only do they infest your home, eat your food, and damage your wiring and insulation, but rats and mice can introduce bacteria and various diseases into your home. At Western Pest Control, our rodent control will provide fast relief. After conducting a thorough inspection to find the source of your infestation, our rodent exterminators work quickly to eliminate mice and rat populations inside and around your home and to prevent them from returning. So if you're dealing with an infestation, contact our local exterminators for the best rodent control services in St. George.
We'll Help You Identify Potential Rodent Entry Points 
To make sure that your home remains rodent-free, our exterminators in St. George will help you find tiny cracks and crevices that rats and mice use to enter and travel through your home, such as:
Gaps where the plumbing or electrical wiring enters your home
Cracks in your foundation or in the siding of your house
Holes in the walls or floors
Bed Bug Exterminator in St. George
A good night's rest is too important to let bed bugs interfere with your sleep—but when these bloodsucking pests find their way into your home, they can turn sweet dreams into nightmares. Our bed bug exterminators work quickly to eradicate bed bugs the first time and provide relief.
When you choose Western Pest Control for bed bug treatments in St. George, you can expect:
A detailed inspection, guaranteed to find bed bugs wherever they're hiding in your home
A customized treatment plan customized to give you lasting protection
A full treatment of any affected rooms in your home, eradicating adult bed bugs and their eggs
The two-week follow-up to guarantee that we've achieved complete elimination
Speak to one of our customer care specialists at 435-383-4303 today to learn more about our bed bug control options and set up your fast inspection.
Termite Exterminator in St. George
Here in Utah, drywood and subterranean termites are a risk to your property. Left untreated, these bugs can quickly rack up expensive repairs—and because they work quickly, it's important to defend your biggest investment and to get in front of an infestation as fast as possible, before it escalates. Our termite treatments in St. Geroge will get rid of your termites, fast. When you choose us for termite control in St. George, you can expect:
A thorough inspection: We start with a detailed inspection by one of our highly skilled termite exterminators.
A customized treatment plan: If we find signs of an active infestation, we will eliminate the entire colony and protect your home from future termite damage by creating a personalized plan to treat your home.
Slab treatments: We utilize highly effective slab treatments to target Subterranean termites that take advantage of vulnerabilities in your foundation.
Spot treatments: Our team uses precise applications of termiticides to eliminate drywood termites before they can eat you out of your house and home.
Long-term protection: To ensure that these insects don't return, we provide long-term termite protection through our baiting stations. 
Entrust Your Home to the Local Trained and Certified Experts
When you're looking for a pest control company, you don't have to settle for less. Western has been the most trusted name for pest control since we first opened our doors in 2001, delivering our effective services and exceptional customer service for nearly two decades. Our top priority is the health and well-being of your family, which is why every formula that we rely on is EPA-approved and highly tested to be tough on vermin without putting your family at risk.
We also believe that giving you the best pest control possible means hiring and training the best technicians in the business. Every exterminator on our team is state-certified, and we keep our team sharp with regular training, so we're always prepared to handle your infestations as quickly, efficiently, and effectively as possible. If you're ready to get rid of pests for good, look to us for expert pest control treatments. Plus, check out what our satisfied customers have to say with over 450 5-star reviews for our pest control services in St. George.