Pest Control in Toquerville Starting At $39.77/Month
What kind of problem are you having? Select all that apply.
Pest Control in Toquerville
We understand that no one wants to live with bugs in their home. It can make you feel stressed and uncomfortable in your own home. When you partner with Western Pest Control for your pest control in Toquerville, pests can soon be a thing of the past! We have been a leader in the industry for over 20 years by eliminating a wide range of pests and winning over customers with our exceptional customer service. If you have a pest infestation and don't know where to turn, count on Western Pest Control for quick relief that will last.  
Our treatments protect against pests such as:
Ants
Beetles
Scorpions
Silverfish
Spiders
Earwigs
Roaches
Crickets
Stinging Insects
And much more!
Feel Confident in our Family-Friendly Treatments
Here at Western Pest Control, we care about our customers. We would never treat your home with something we wouldn't use in our own homes. We exclusively use EPA-approved formulas for family-friendly treatments in all of our pest control services for your peace of mind. You can always count on us to provide low-risk pest control in Toquerville. That's our promise to you!
Image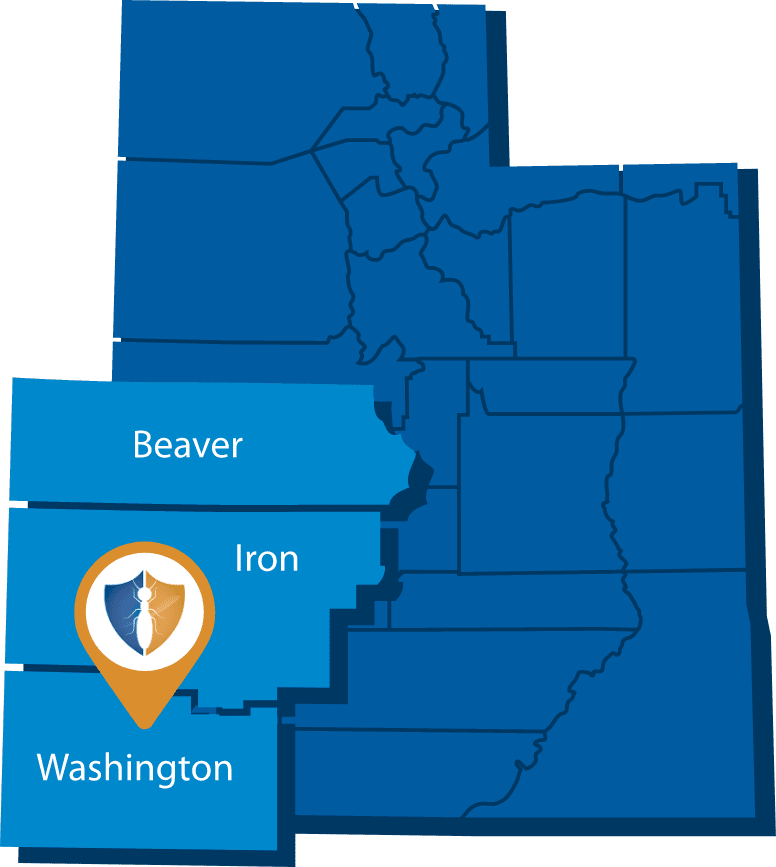 Customized Pest Treatments and Quality Results
In order to successfully eradicate pests from your home, we always take a comprehensive approach with our pest control. To start, we conduct a free inspection of your property to determine what you're dealing with. From there, our experts will devise a personalized treatment plan based on your specific infestation as well as your home's needs. With our meticulously designed pest control in Toquerville, you can guarantee that your home will be taken care of properly, and all pests will be eliminated! To conclude our treatment process, we will offer our professional advice on how to keep bugs and rodents out of your home in the future. 
Rodent Exterminator in Toquerville
Tiny teeth marks on the cereal boxes. Droppings on the cupboard shelves. The scuttling sound of miniature claws in the walls and ceilings. The presence of mice and rats in your home can make your skin crawl, and not just because they're creepy, but because they're dangerous. Rodents can contaminate your food, chew furniture and insulation, and damage the electrical wiring in your home (which carries the threat of a fire). How do you evict rodents without dangerous traps or harsh chemicals? It's simple, call Western Pest Control for the help of expert rodent exterminators.
When you call us for rodent removal in Toquerville, you'll receive: 
A prompt and thorough rodent inspection from one of our friendly and knowledgeable rat exterminators.
A customized treatment plan using reduced-risk, EPA-approved products to keep your family and pets safe while effectively baiting and trapping mice and rats. 
Rodent exclusion work to eliminate holes and crevices around your home that may be allowing rodents to enter. 
Regular follow-ups with a comprehensive plan for only $39.77/month. 
A satisfaction guarantee: If you continue to see problems and need additional rodent trapping or treatments, we'll retreat your home at no additional cost.
Bed Bug Exterminator in Toquerville
Your home should be your haven, but it's difficult to feel safe when you're suffering from a bed bug infestation. Bed bugs destroy your peace of mind, but DIY and store-bought treatments are usually ineffective—they can even drive an infestation further into your home. Call the bed bug control experts at Western Pest Control to draw on our 20 years of experience. 
When you call Western for bed bug control in Toquerville, you can expect: 
A thorough bed bug inspection by one of our exterminators.
A customized treatment plan decided in partnership with you, keeping in mind your family's unique needs. 
Fast, effective, top-of-the-line bed bug treatments of affected rooms, including bedding, upholstery, and other areas that could harbor bed bugs. 
A two-week follow up to ensure that bed bugs are completely eradicated. 
Locally Owned and Operated for 20 Years 
Bed bug infestations quickly multiply if they are not handled carefully. Female bed bugs can lay eggs every day, and between four to seven eggs at a time—that's why it's important to contact professionals as soon as you suspect their presence. 
There are a few signs of a bed bug infestation that you can watch out for, including: 
Itchy red bites on exposed skin
Tiny bloodstains on the sheets
Droppings or exoskeletons discarded 
An unpleasant, musty odor
Termite Exterminator in Toquerville
Few insects on the planet are as destructive as termites, which is precisely why you need Utah's best termite control on your team. At Western Pest Control, we've protected Utah's homes for 20 years and our local exterminators are here to provide you with termite control in Toquerville. Each year in America, these bugs are responsible for more than $5 billion dollars in home damages. Don't let your house become a statistic! Our termite treatment will remove termites and keep them gone for good.
When you choose Western Pest Control, you can expect:
A thorough inspection from a local termite exterminator to identify hiding spots and the severity of your infestation.
A termite treatment plan customized to address the unique needs of your home. 
Slab and spot treatments to treat multiple species. 
Bait stations for total colony elimination. 
Guaranteed Termite Elimination
At Western, we don't mess around with termites. Instead, we guarantee the complete elimination of all termites in your home. If they return after we're gone, let us know and we'll be back to perform all necessary re-treatments absolutely free of charge.