Pest Control in Ivins Starting At $39.77/Month
Pest Control in Ivins
In a place with warm temperatures like Ivins, it's no surprise that bugs want to live here, too. As temperatures rise, so do pest populations— this makes it a hot spot for pest activity. However, here at Western Pest Control, we provide professional pest control in Ivins. Our treatments keep bugs and rodents at bay so you can enjoy your home in peace.
Our pest control treatments are effective against a variety of pests, including:
Ants
Roaches
Spiders
Crickets
Silverfish
Earwigs
Beetles
Stinging Insects
Scorpions
And more!
Quality Service That Produces Quality Results
We are committed to quality. In fact, it's our first priority. That's why we weave quality into every aspect of our pest control service. From start to finish, you will see the difference with us. Here's what to expect when you partner with us for pest control in Ivins:
First, a local exterminator will thoroughly inspect your home for signs of pests and their entry points.
Next, we will create a treatment plan that is customized to meet your needs.
Then, we will fully eliminate pests from your home using EPA-approved formulas.
Finally, we will back our service with a 100% 30-day service guarantee and make recommendations on how to prevent pests from returning.
Image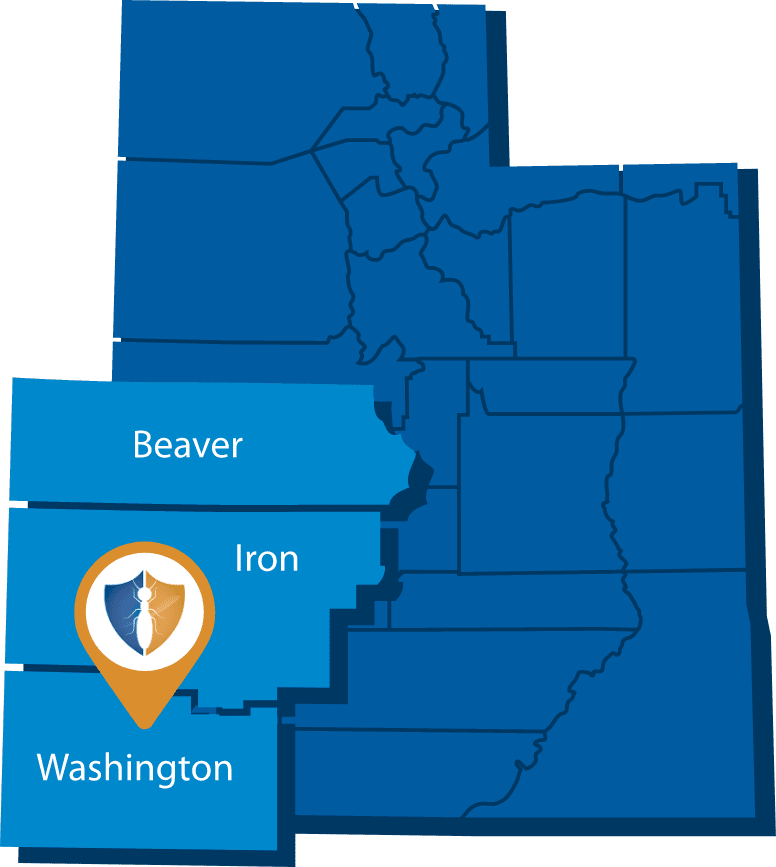 Termite Control in Ivins
Every year, termites cause up to $5 billion dollars of damage to homes. Luckily, we are here to help protect your home. Our exterminators are ready to service your home and give you peace of mind that termites will not be a problem in your home.
Customizable Treatments to Meet Your Needs
Our exterminators have been servicing the Southern Utah area since 2001. That is 18 years of exterminating termites! Your home deserves quality service when you are dealing with termites. When you sign up with us, you can expect:
Trained technicians: Our exterminators are continually trained on termites so they can give you the best service.
Effective formulas: The formulas used are not only effective, but they work fast. They are applied by our incredible exterminators who know exactly what they are dealing with, so your termite troubles will be gone in a flash!
Safety First: Your family is the most important, so our s exterminators are trained on our safety procedures constantly. They place the treatment cautiously so your family will stay safe.
Customizable treatment: Each home is different, so your treatment will be customized to your home to meet your needs.
Free termite inspection: We'll come to your home and inspect your home for signs of termites.
Bed Bug Treatment in Ivins
Nothing can disrupt a peaceful night's sleep like the suspicion of bed bugs. Often if you have an infestation, you may wake up with red bite marks on your skin. Bed bugs are very resilient. Ignoring the infestation or using DIY solutions may only make your infestation worse and harder to eliminate. However, our bed bug exterminators are all highly trained to the highest industry standards because when eliminating bed bugs, training matters. When you partner with us for your bed bug treatment, here's what you can expect:
A trained exterminator will conduct a thorough inspection to determine the severity and extent of your infestation. 
We'll create a detailed and customized bed bug treatment plan that's designed to get rid of bed bugs quickly and effectively. 
Highly-trained exterminators will treat the affected rooms for bed bugs. 
We'll conduct a two-week follow-up to ensure there aren't any signs of lingering bed bugs. 
Local-Owned with Service You Can Trust
We've been in business for nearly 20 years as a locally owned and operated business. We live next door, which means we deal with the same pesky pest problems that our clients deal with. We offer top-of-the-line service and expertise to pest problems because we understand how frustrating a pest problem can be. Our highly-trained exterminators will quickly and effectively deal with your pest infestations. When you partner with us, you partner with the experts. 
Rodent Control in Ivins
Rodents can be a force to be reckoned with. Despite their small size, these destructive pests present a range of dangers. Rats and mice can damage your walls, contaminate your food, expose you and your loved ones to diseases like Typhus and Salmonella, and can even cause electrical fires by damaging wires in your home! 
30-Day Service Guarantee
If you find yourself overwhelmed by rodents, look no further than Western Pest Control for all of your rodent control needs! We have been protecting our community from rodents since 2001, and our expert rodent extermination comes with 30-day service guarantee—if your problems persist after treatment, let us know and we'll be back to set it right in no time! When you team up with Western for rodent control in Ivins, you can expect these quality services:
An inspection by one of our highly-trained Ivins rodent exterminators
Designing a specialized rodent treatment plan for your specific rodent infestation
Trapping of any rodents in your home and follow-ups to make sure rodents stay gone for good
Sealing of any exterior entry points to prevent rodents from returning
Local Experts That You Can Trust
Here at Western, we have been providing quality pest control to residents of Utah since 2001. Since then, we have mastered the ins and the outs of pest control. We know the pests in this area better than anyone else. In addition to local knowledge, our exterminators in Ivins are also highly trained. We believe in making sure all our technicians are smart, well-rounded professionals. You won't find a better team to work with than the local experts at Western Pest Control!