Pest Control in Parowan Starting At $39.77/Month
What kind of problem are you having? Select all that apply.
Pest Control in Parowan
For nearly 20 years our highly-trained, experienced technicians are experts on the types of pests that live in Parowan and we know how to get rid of them quickly and effectively. When you trust us with your pest control needs in Parowan, you will receive the most effective treatments and unmatched, top-of-the-line service.
Our pest control treatments target a wide variety of bugs, including:
Ants 
Roaches
Spiders
Crickets
Silverfish
Earwigs
Beetles
Stinging Insects
Scorpions
And more!
Be Free From Your Pest Problems For Good
When you are stuck with a pest problem that is disrupting your home, then it's time to hand it over to Western Pest Control.  We've been in business for over 20 years and we strive in helping our neighbors!  
Image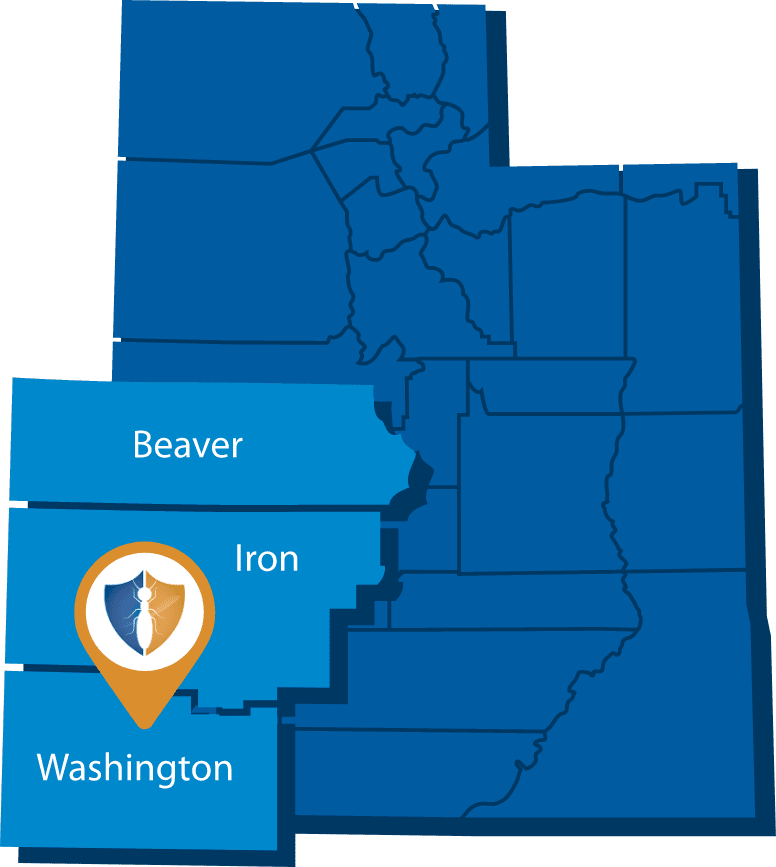 Quality Pest Control Services That You Can Count On
When you are dealing with a pest infestation and your home no longer feels like your home, it's time to call in the experts.  Here are Western we pride ourselves in our high quality of service and customer satisfaction.  From start to finish, we will make sure your home is safe and pest-free for you and your family!
When you book a pest control service with Western Pest Control you can count on the following things:
Firstly, a Parowan exterminator will thoroughly inspect your home for signs and droppings, and their possible entry points in your home.
Next, we will create a treatment plan that is fully customized to fit your needs to eliminate your pest problems!
Then, we will eliminate your infestation with EPA approved and family and pet-friendly treatments!
Finally, we back our pest control services with our 100% 30-day service guarantee and we will provide you with any tips or tricks to keep any pests from returning in the future!
Rodent Control in Parowan
Annoyed by mice and rats trying to live side by side with you under the same roof? We get it—that's why we here at Western Pest Control offer professional rodent control in Parowan! Rodents can cause a wide rage of damage to your home, which is why a rodent exterminator is needed to properly and safely eliminate the rats and mice in your home.
What kind of damage can rodents do to your home? They can:
Cause gnaw marks on wood. 
Cause electrical wire damage.
Contaminate sanitary spaces of homes.
Threaten loved ones with harmful disease, bacteria, and allergies.
Attract other unwanted pests, such as mites.
SCHEDULE YOUR FREE RODENT INSPECTION
We Eliminate & Prevent Rodents
At Western Pest Control, we tailor our services to fit your needs, which is why we always perform an initial rodent inspection before beginning treatment. We also don't stop at elimination! Our rodent exterminators take preventative measures to ensure mice and rats are gone for good!
When you choose Western Pest Control for rodent control in Parowan, here's what you can expect:
Clear identification of entry points.
Gaps, cracks, and holes to be sealed.
Baiting and trapping to eliminate all present rodents.
Preventative measures to exclude rodents.
Regular follow-up communication to make sure your problem is resolved.
Termite Control in Parowan
A termite infestation in your home must be dealt with swiftly. These common, wood-eating pests can cause severe structural damage to your home, exacerbate existing respiratory problems, and reproduce in the thousands. It doesn't take much time at all for a small termite problem to become a big one. So when you notice buckling floorboards, hollow-sounding walls, or mud tubes around your home's foundation, it's time to call Western Pest Control. For termite control in Parowan that ensures both effective removal of existing termites and preventative measures against new infestations, our team has you covered. 
With our termite control in Parowan, you can expect:
A detailed top-to-bottom home inspection conducted by one of our friendly and experienced termite exterminators.
A treatment plan tailored to your home's needs.
Slab treatments around your home's foundation to stop subterranean termites from getting in. 
Targeted treatments against drywood termites.
Strategic use of bait traps to eliminate termites in your home and prevent a resurgence.
Free re-treatments.
Recurring, long-term home treatment for just $39.77 a month!
Bed Bug Control in Parowan
It's hard to get the rest and relaxation your body needs when you've got bed bugs taking over your mattress. Bed bugs may seem like a problem that only happens in motels and other high-traffic places, but these pests can easily make their way into your home by riding in on used furniture or luggage. However, getting rid of them is as easy as calling your neighbors at Western Pest Control. Our bed bug control in Parowan is designed to eliminate bed bugs quickly and effectively with techniques built over two decades of experience.
When you team up with us, you can expect the following from your bed bug exterminator in Parowan: 
A careful inspection of your home to identify where bed bugs are living and reproducing.
A personalized treatment plan designed with your home's unique needs in mind.
A follow-up after two weeks from your bed bug exterminator to ensure your bed bugs are eliminated completely.
Quality customer service backed by a 4.9-star rating.
Our 30-day satisfaction guarantee!